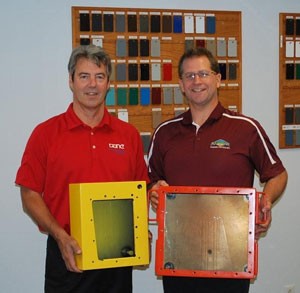 Dane Manufacturing has been one of our fastest growing customers over the past couple years. They have been aggressively seeking new work as well as looking for ways to become more efficient with the jobs they are currently running. Working closely with Dane, we have been able to help streamline the overall manufacturing process of certain parts, allowing them to pass the savings along to their customers.
One of the best examples of this cooperation involves the tanks and reservoirs that Dane makes for a number of different customers.  These tanks and reservoirs come in many different shapes and sizes and have unique masking requirements. Many of these tanks are used in applications where any contaminants left in the tank could cause significant damage to the assembled equipment. After powder coating, the inside of the tank is fogged with oil to prevent the formation of rust while the tanks are assembled. In the past, using conventional masking methods resulted in a flashing or powder residue on the top of threaded ports and in fasteners which Dane would have to remove in a separate operation. If any of these particles got into the tank during this process the tanks would need to be re-cleaned prior to oil fogging which added yet another step to the manufacturing process.
Having a significant knowledge of powder coating, Tom Ayers, Sales Manager at Dane Manufacturing, saw an opportunity to eliminate steps in the manufacturing process. He approached us to develop ways to streamline the overall process and reduce the total cost of a tank. Utilizing our Roland Die Cut machine to make masking for the necks and odd sized ports and changing to special masking products that protect the leading threads of other fasteners, All-Color was able to eliminate flashing and residue around the holes and ports. Dane would no longer need to clean up the holes and re-wash the inside of the tanks after powder coating. All-Color purchased the necessary equipment and developed a method to oil fog the tanks as they remained on the line, eliminating the need for Dane to handle the parts after powder coating.
Working together, two steps in the total manufacturing process were eliminated and efficiencies were gained in others, reducing the overall manufacturing cost. The knowledge gained through this process has enabled Dane to secure additional tank orders from existing customers as well as new ones.
Working with All-Color has allowed us to improve the overall manufacturing process which allows us to reduce the cost to our customers,
stated Tom Ayers of Dane.
It is great to work with a company that understands how manufacturing works and is willing to put the time and effort in to improve the overall process. It is a joy to work with these fine folks in Oregon.
For more information regarding this project, please contact us at (608) 835-9118.