PRE-TREATMENT AND CLEANING
PRE-TREATMENT AND CLEANING
Whether your parts need to be pre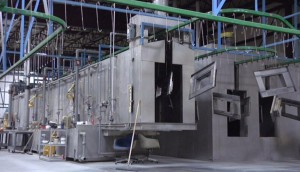 -treated for coating, or if they just need to be cleaned, All-Color Powder Coating has the capabilities to fulfill all of your requirements.
Pretreatment is the foundation of any coating process. All-Color Powder Coating has formed a great partnership with our chemical suppliers and is consistently working with them to meet and exceed our customers' needs and expectations. We take pride in maintaining our pretreatment process daily to make sure that our customers are getting the best possible cleaning available.
PHOSPHATE TREATMENT
Our alkaline cleaner is designed for multi-metal substrates, primarily cold rolled steel, hot rolled steel, aluminum, and galvanized metal. The alkaline cleaner will remove oil, some greases, loose dirt, and organic soils. However, please note that the alkaline cleaner does not remove weld smut, rust, inorganic soils, and laser scale. These will have to be removed by other mechanical or chemical means.
Our iron phosphate will provide an "inert" barrier between the metal surface and the powder coating to improve corrosion protection of the final coated substrate. Some of the common uses of phosphating include: corrosion protection, to promote adhesion of organic coatings, improve wear resistance, enhance formability and reduce die wear.