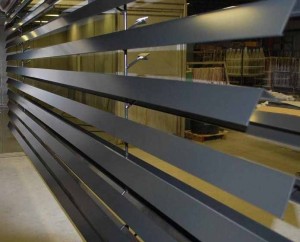 The more things change the more they stay the same;  a point proven time after time at All-Color Powder Coating.  The economic environment over the past few years has prohibited our customers from keeping inventory on their shelves.  To compensate for this, customers are utilizing a just-in-time approach and ordering smaller quantities more frequently.  For example, we are now running smaller quantities of parts on a weekly basis rather than a customer's larger requirement once per month.  This type of environment makes it extremely challenging for us to adequately schedule powder coating and for customers to manage their inventory.  Working together, All-Color and Springs Window Fashions (SWF) in Middleton, WI overcame these challenges by developing a system which allows All-Color ample time to complete the powder coating and SWF to manage their raw material inventory.
All-Color has been powder coating sixteen to twenty foot long window covering fascia for SWF for several years.  In order to meet SWF's needs, All-Color would make several trips per week to pick up raw material.  The scheduling of these trips as well as the subsequent scheduling of the coating was becoming difficult to manage.  Working closely with Wayne Wood, Springs Window Fashions Senior Quality Engineer/Purchasing Agent, an agreement was reached that would entail All-Color picking up larger quantities of fascia once a week.  All-Color stores the inventory of uncoated fascia in our facility using special racking supplied by SWF.  Orders for coated fascia are relayed to All-Color and the raw material is pulled from the racks and coated the appropriate color.  Finished product is then delivered to SWF and more uncoated material is picked up eliminating unnecessary trucking.
Another component critical to the success of this operation was to allow SWF to maintain an accurate inventory of the large quantity of raw material kept at All-Color's facility.  Once a month, Joel Hardy, All-Color's Batch Team Lead, sends out an adjusted physical raw material inventory to Luann Zander, Master Scheduler at SWF, which she can use to verify her book invento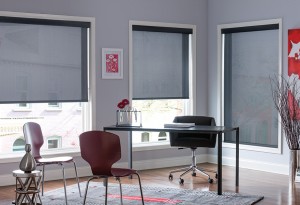 ry.  This extra effort demonstrates All-Color's commitment to working with our customers to achieve a common goal.  Wayne Wood had this to say about our collaboration,
Working with the All-Color team has been very productive for us here at Springs Window Fashions.  Having them manage our raw material inventory has been very nice and has freed up some much valued floor space at our facility.
For more information regarding this project, please contact us at (608) 835-9118.