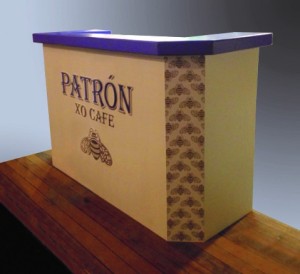 All-Color Powder Coating can easily handle your custom color needs.  We were contacted by Jason Kingsley, owner of Means of Production, Inc. (MOP), with questions about having Medium Density Fiberboard (MDF) bar tops powder coated a custom purple color.   MOP had been contracted to produce portable bar assemblies that were being placed at ski resorts to promote Patrón XO Café Tequila.  The design of these portable bars required that the tops be extremely durable as well as match the particular shade of purple on Patrón's XO Café label.  After searching unsuccessfully for nearly two weeks to find a laminate that was the appropriate color, Kingsley decided it was time to explore other options. Remembering past conversations with MDF Sales and Development Manager, Roger White, he was aware of All-Color's ability to produce custom colors for powder coating MDF.  After furnishing us with a Pantone color number that matched the Patrón label, we had Alpha Coatings manufacture and coat some sample panels with this custom purple powder. As the deadline to complete this project was fast approaching, the color samples were shipped overnight directly to MOP's

client for approval.  Powder was ordered, raw bar tops were delivered to All-Color and the powder coating was completed in less than one week.
All-Color was able to meet MOP's tight schedule with a product that was extremely durable and met the customer's color requirement. After the completed bars were safely in the hands of MOP's client, this is what Kingsley had to say,
Roger and the entire team at All-Color, from the owner on down, made it seem like my fairly small project was the only job in the shop.  From my tight timeline, to the unusual color match, to accommodating my end-client's difficult approval process, they pulled the entire run off without a snag, hitch, or hiccup.  Means of Production is proud of delivering seamless outcomes, and All-Color made us look like we can do the impossible!
All-Color Powder Coating would like to welcome Means of Production, Inc. as one of our newest valued customers and looks forward to working with them on future projects.  For more information about powder coating MDF, please contact us at (608) 835-9118.