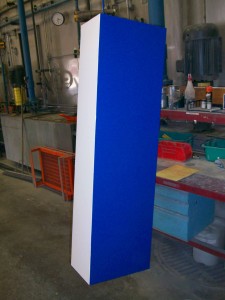 In May 2010, the U.S. Bank Plaza on Madison's Capital Square won the In Business awards for Best Renovation – Office or Retail and "Best Green-Built" Project.  The iconic steel and transparent building owned by Urban Land Interests and built in the early 1970's underwent extensive renovation during 2009 including  updates to nearly all of its mechanical systems.  All-Color is proud to have played a significant part in these accomplishments.
The mechanical systems that are positioned around the exterior of each floor are enclosed with a cover that is visible when looking at the building from the outside.  These bright blue covers form bands around each floor when looking at the building.  The covers were beginning to show the wear that could be expected after 30 plus years of use.  The exterior blue  bands had faded and the interior faces of these covers had been coated various times with paint to match the interior walls.  They were beginning to look pretty rough and would be out of place in the newly renovated office suites.
Matt Darga, facility operations  manager for Urban Land Interests, approached All-Color to explore options for refinishing the existing covers.  Urban Land had three major objectives:  They did not want to make new covers for the entire building; they wanted to maintain the exterior look of the building including  the blue bands, and  they wanted the interior facing covers to look "new".
The biggest challenge faced by All-Color was how to coat these parts blue on one leg to create the "exterior blue band" and off-white on the top and inside leg in order to match the walls of the newly renovated space.  Once the parts had been stripped and sandblasted, the entire part was coated an off-white to match the interior walls of the newly renovated offices.  The top and inside leg of the cover was then masked allowing them to coat the outside leg blue which ultimately becomes the blue band that you see around each floor of the building.   This process continued for over three months as parts were removed, stripped, sandblasted, coated, masked and re-coated in batches every couple weeks.
Matt Darga summed up the project,
I appreciate all the testing and trials that All-Color performed in order to find a way to accomplish our goals and allow us to re-use the existing covers.  All-Color was able to find a way for us to maintain the existing appearance of the building while at the same time making the covers in the office areas look new again.  They worked closely with us to stay on schedule and keep the disruption of our existing tenants to a minimum.  I look forward to working with them on more projects in the future.
For more information regarding this project, please contact us at (608) 835-9118.  Go to www.uli.com to view pictures of the finished project.