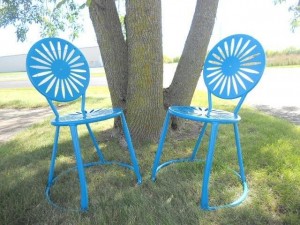 One of All-Color Powder Coating's longest running projects is powder coating the tables and chairs used at the Memorial Union Terrace on the University of Wisconsin-Madison campus.   All-Color has been powder coating new chairs for over 16 years and periodically refinishes them to keep the chairs looking like new.
In August of 2012, ground was broken on the renovation of the Memorial Union which was first opened in 1928.  Part of the money for the $52 million project was expected to come from donor contributions.  UW Credit Union and the Wisconsin Union developed the Mendota Blue Movement to take advantage of the symbolism of the Terrace chairs and the desire of many alumni to obtain one.  Three hundred new Terrace chairs would be powder coated with a custom formulated Mendota Blue powder and placed on the Memorial Union Terrace along with the traditional green, yellow and orange chairs.  The blue chairs would remain on the Terrace for a limited time and would then be given to donors making a significant cont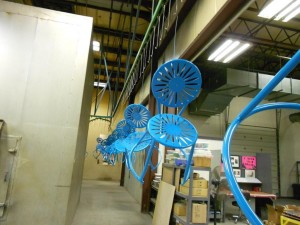 ribution to the project.
All-Color was called upon to help create the Mendota Blue color and then apply it to the 300 new chairs that were manufactured by Wisco Industries in Oregon, WI.  Upon completion of the fundraising campaign, the chairs were removed from the Terrace and returned to All-Color where they were stripped, sandblasted and given a fresh coat of the Mendota Blue powder to give them a like-new appearance.  The newly coated chairs were then shipped to the donors that made a contribution of at least $1000 to the Memorial Union renovation project.  In addition to the full-sized Terrace chairs, over 1,300 mini-chairs were powder coated Mendota Blue and given to donors that made smaller contributions.
All-Color takes pride in being able to coat such a highly recognized symbol of the University of Wisconsin-Madison.  We are glad to have been able to play a part in this successful fundraising campaign and look forward to seeing the chairs on the Memorial Union Terrace for years to come.
 For more information regarding this project, please contact us at (608) 835-9118.