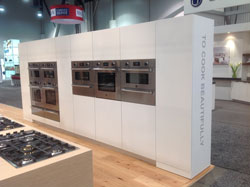 All-Color's 18 year relationship with Universal Presentation Concepts (UPC) in Madison, WI, has primarily involved powder coating metal parts. However, this time UPC contacted us regarding powder coating a Medium Density Fiberboard (MDF) display booth for the 2015 Kitchen & Bath Industry Show in Las Vegas, NV. UPC's client, Italian manufacturer Bertazzoni Appliances, was looking to present their wide array of appliances on a white background with a durable, smooth finish. So not to draw attention away from their appliances, Bertazzoni stressed that they did not want to see the dark edge banding lines that are typical with laminate veneer. The solution was using powder coated MDF, which provides a durable, smooth finish with the clean edge Bertazzoni was seeking. All-Color provided a sample of color and finish which was shipped to Bertazzoni's corporate office in Italy for final approval. UPC's MDF design was manufactured and All-Color powder coated the components in plenty of time for the show. The real test was Bertazzoni's reaction upon seeing the completed display for the first time. Al Underwood, Designer at UPC, had this to share about his interaction with owner Valentina Bertazzoni: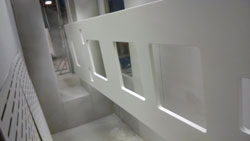 "The powder coated displays were a big hit at the 2015 National Kitchen & Bath Industry Show. Bertazzoni originally requested the cabinets have a lacquer finish which was out of our comfort zone. We suggested the displays could be powder coated. Bertazzoni was hesitant at first, but agreed to let us try. When Valentina Bertazzoni arrived at the convention hall from Italy, she went directly to the display to inspect it. After a few tense moments, she turned to me and said she had been very nervous about the powder coated finish, but was very relieved and loved the display. We are now in discussions with Bertazzoni whether the new powder coated displays should replace the laminated version we've been building for them for the past four years."

All-Color Powder Coating would like to thank Universal Presentation Concepts for trying our MDF process and looks forward to working with them on future MDF projects.
For more information regarding this project, please contact us at (608) 835-9118.