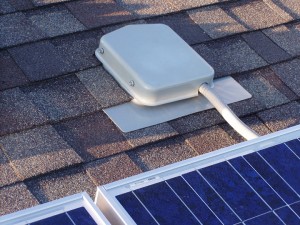 Installed SolaDeck unit (Photo courtesy of RSTC Enterprises, Inc.)When RSTC Enterprises, Inc. started their search for a new powder coater, they kept hearing very good things about All-Color Powder Coating. The Eau Claire, WI based company was interested in having All-Color powder coat their CommDeck and SolaDeck units. The CommDeck unit is a patented satellite dish mounting system that has set the professional standard by eliminating the use of lag bolts that can lead to a leaky roof. RSTC's SolaDeck unit is a state-of-the-art wiring enclosure system t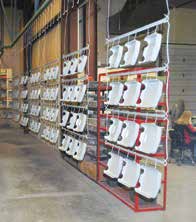 hat is revolutionizing the installation of roof-mounted solar panels.
Along with a request for quote, RSTC sent a logistics and point-of-contact questionnaire to be returned. After going over the questionnaire, All-Color could tell this wasn't your ordinary request. During the initial phone call to Steve and Tim Capozzi, brothers and owners of RSTC, All-Color discovered that the primary reason for RSTC switching powder coaters had less to do with pricing and quality of their parts, and much more to do with the logistical nightmare they were having with their current powder coater. Orders were often packaged incorrectly, missing the proper identification labels, miscounted, or received later than the confirmed delivery date. Being that RSTC is a very small company with only a few full-time employees, it is extremely important that their orders show up complete, on time, and properly labeled and packaged so they can easily send out orders on time to their SolaDeck parts customers. The CommDeck and SolaDeck components are manufactured by Fox Valley Tool & Die out of Kaukauna, WI and shipped to the powder coater. Coated parts are then shipped directly to RSTC. All-Color has worked with RSTC to develop new packaging methods. We also increased the number of parts per shipment thus reducing freight costs. Working together and understanding the importance of continuous communication was instrumental in re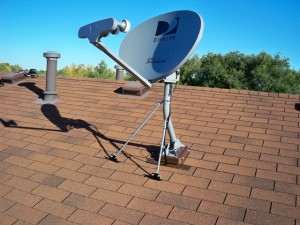 solving these issues.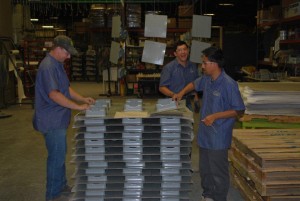 RSTC was looking for a more hassle free way of doing business and found that with All-Color. As a company that values its vendors as much as its customers, RSTC was happy to work with All-Color to eliminate their logistical nightmares. With all of the logistics now in the hands of All-Color, Steve and Tim have been freed up to concentrate on other aspects of running their growing business. Steve commented, "When it comes to quality, communication and problem solving, All-Color is on the top of our list."
For more information regarding this project, please contact us at (608) 835-9118.