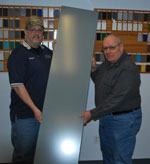 Good things come to those who work together. Longtime customer Wisco Industries, Inc. in Oregon, WI, was given the opportunity to quote a large number of new projects for Rockwell International. Already a supplier to Rockwell, winning this work could provide a significant boost to Wisco's stamping and fabricating business. All-Color was previously approved for powder coating by Rockwell International in 2011 after undergoing an audit of our equipment, systems and procedures. Since this time, Rockwell's specifications have changed and in order to qualify for the new work, both Wisco and All-Color would be required to undergo another audit.
All-Color's Quality Assurance Specialist, Larry Rybowiak, teamed with Wisco's Quality Control Supervisor, Emery Backman, to submit powder coated samples meeting Rockwell's new specifications. Being PCI 3000 and Axalta Star Coater Certified, having a complete quality control testing lab, and having adequately met Rockwell's new requirements all led to a quick recertification by Rockwell.
Wisco, also recertified by Rockwell, received a large number of these new projects which meant All-Color received a large amount of new work as well. As this relationship with Rockwell has progressed, we have continued to work together developing ways to improve quality and make production more efficient. Larry has developed detailed testing and reporting procedures ensuring a quality coating is being applied on a consistent basis that go above and beyond Rockwell's requirements.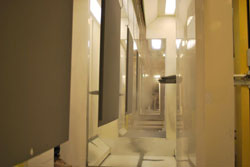 As a result of continuously providing good quality and on-time delivery, Rockwell has rewarded us with additional projects. Dave Alsmo, General Manager at Wisco, conveyed that "Rockwell has looked upon our relationship very positively. They appreciate all Wisco and All-Color have done to ensure quality while at the same time looking for cost reduction options. I look forward to a long and prosperous relationship between Rockwell, Wisco and All-Color."
All-Color Powder Coating would like to thank Wisco Industries for their loyalty and support all these years and looks forward to many more partnering opportunities.
For more information regarding this project, please contact us at (608) 835-9118.