Additional Services at All-Color
BURN-OFF OVEN
All-Color Powder Coating is able to remove the current finish from already coated metal parts, whether it be liquid or powder. This ensures that your parts are completely stripped and prepared properly for the re-coating process.
Heat-cleaning ovens, commonly known as burn-off ovens, are used to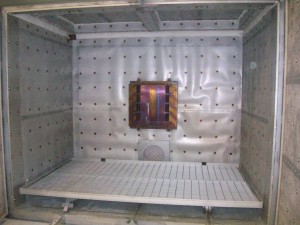 remove organic materials such as paint, oil, and plastic from metal parts, allowing them to be reused. In the coating industry, hooks and racking fixtures accumulate overspray and lose the conductive surface that is necessary for a proper electrical ground that is crucial for transfer efficiency, even coverage, and to prevent arching that can lead to a possible fire in the powder booth. Rejected or parts to be reworked are also burnt off so a new coating can be sprayed on a clean substrate.
Our Advanced Burn-Off Oven by Steelman Industries, Inc. utilizes their patented top-down heating process by introducing the heat into the top of the oven and removing cooler gases and combustible vapor from the bottom of the oven, thus reducing temperature variations creating a consistent burn for paint removal. The Automatic Process Control will automatically adjust the required cycle time to the weight of the load and the amount of combustible material on the parts. This feature measures the temperature at the top and bottom of the oven and monitors the water spray circuit to determine when the oven has finished processing. This control system makes this oven extremely energy efficient and fits with our green philosophy.
T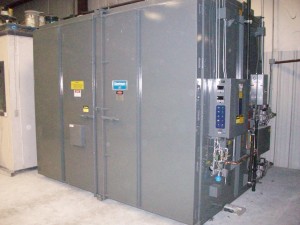 he batch capacity of our burn-off oven is 10' W X 6' D X 6' L. Depending on the amount and type of coating, the cleaning cycle takes approximately 2 hours at a temperature of 800 to 850 degrees. Post cleaning, in most cases, is necessary to remove ash from the burning process.
Typical applications that use burn-off oven technology include patio furniture, motorcycle/ATV frames, steel rims and fixtures. The paint and powder coating industries also use burn-off ovens to remove the paint from powder coated hooks, racks and fixtures used to hang parts on the line. It's also used to rework parts that don't meet quality guidelines.
MASKING
All-Color has a dedicated department to meet all your masking needs. The department is staffed with three full-time employees with extensive experience in a variety of jobs. As these employees main focus is masking, they are able to become extremely familiar with your parts and the requirements of each of them, allowing us to provide you with a high quality, consistently masked part every time.
Aside from the standard assortment of tapes, plugs and caps, we work with a number of masking vendors to tackle even the toughest masking projects. From customized die cuts, plugs, and racks that provide masking, we can do what is needed to meet your most difficult masking requirements.
MASKING PHOTO SLIDES
PRE-TREATMENT & CLEANING
Whether your parts need to be pre-treated for coating, or if they just need to be cleaned, All-Color Powder Coating has the capabilities to fulfill all of your requirements.Pre-treatment is the foundation of any coating process. All-Color Powder Coating has formed a great partnership with our chemical suppliers and is consistently working with them to meet and exceed our customers' needs and expectations. We take pride in maintaining our pre-treatment process daily to make sure that our customers are getting the best possible cleaning available.
Our alkaline cleaner is designed for multi-metal substrates, primarily cold rolled steel, hot rolled steel, aluminum, and galvanized metal. The alkaline cleaner will remove oil, some greases, loose dirt, and organic soils. However, please note that the alkaline cleaner does not remove weld smut, rust, inorganic soils, and laser scale. These will have to be removed by other mechanical or chemical means.
Our iron phosphate will provide an "inert" barrier between the metal surface and the powder coating to improve corrosion protection of the final coated substrate. Some of the common uses of phosphating include: corrosion protection, to promote adhesion of organic coatings, improve wear resistance, enhance formability and reduce die wear.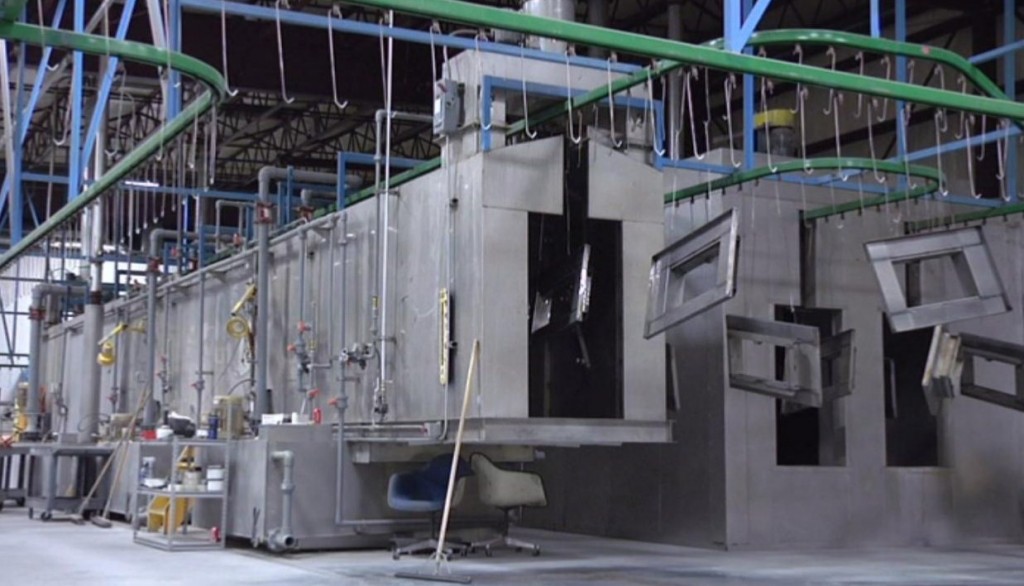 ASSEMBLY & PACKAGING
All-Color's trained staff will meet all your custom packing needs for jobs, large and small. For a job that needs to be shipped across town or across the country, you can be sure it will get there in great condition. Need parts assembled after the powder coating process? All-Color is able to help.
ASSEMBLY AND PACKAGING PHOTO SLIDES
If we are unable to provide you with a specific service, we will direct you to the appropriate place to complete your project. We have established an extensive network of sub-contractors that we trust will help you complete your project on time and with the same standard of quality that we expect. Those services which you may want to take advantage of are listed below.
SUB CONTRACTING SERVICES
Sandblasting/Media Blasting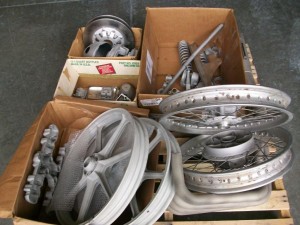 Whether you are undertaking a refinishing project, trying to salvage rusty material or just want to maximize the adhesion of our powder coating, sandblasting or media blasting may be just what you are looking for.
Metal Forming/Fabrication/Welding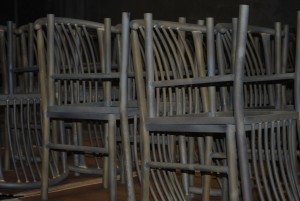 Should you need help bringing your design to life, we can connect you with a number of high quality metal fabricating companies. You will be able to work directly with them or you can provide us with drawings and we will work with the fabricator and deliver you a completely finished part. We want to make it as easy as possible for you to take your project from concept to completion.
Part Decorating/Graphics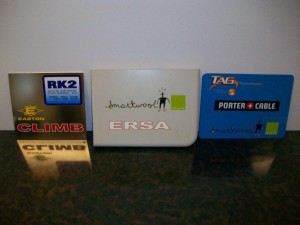 We utilize TAG Technologies DuraTag Ink Transfer Technology to apply graphics to your parts. This process fuses the graphics to your parts so they cannot be peeled off and provides outstanding opacity, color registration and performance. You can now design graphics with fine details, seamless color blends and vivid colors to get your parts noticed. Please check out a video of how the TAG process works.