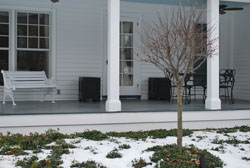 All-Color was given a unique opportunity this past fall when asked to help with the restoration of a 110 year old home in the Maple Bluff subdivision in Madison, WI. The owner, Eric Petersen, was attempting to modernize the home built in 1901, while keeping as much of the original appearance and charm as possible. In addition to electrical boxes and exhaust vents previously coated to match the exterior color of the house, there were many other items Eric was interested in refinishing. These included a patio set, decorative steel flower pots, park style benches and numerous cast iron radiators and covers located throughout the house. The most challenging of these items would prove to be the radiators due to their age, condition, design and weight. The radiators were in working condition, but many were showing signs of wear or had been repainted various times. Eric didn't want to replace them with new, modern looking radiators, but wanted to make these existing ones look like new. With a little prodding, Eric was able to persuade us to take on the project.
All-Color worked with Eric's designer, Barry from Fontaine Interior Designs, to select the colors that would be used. Because the radiators were all different, they were labeled so that they would be coated the appropriate color and ultimately returned to the proper room when completed. To facilitate the sandblasting process, the radiators were placed in our burn-off oven and baked at 800 degrees Fahrenheit for a couple hours, which turned the years of dust, dirt and multiple coats of paint to ash. After sandblasting, they were ready for coating. This would prove to be a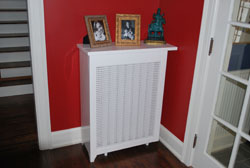 challenge due to their weight and configuration. Hanging them in such a way as to not leave any visible marks was difficult. After some trial and error, a combination of bars and hooks through the center of the loops left inconspicuous marks that were not visible after coating. After a nice thick coat of powder, these antique radiators did in fact look like new. Eric was extremely pleased with the results as he recently indicated,
I know this type of work is not All-Color's primary business, but I am extremely appreciative of their help. Everything looks wonderful and I am glad they decided to work with me on this project.
This project was unique and somewhat challenging, but in the end very rewarding. We were able to hold to our mission of being green by refurbishing the radiators and other items, keeping them out of the landfill, while at the same time helping our customer bring his vision to reality.
For more information regarding this project, please contact us at (608) 835-9118.