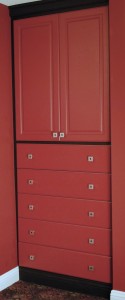 The owners of All-Color Powder Coating would like to thank Genin's Inc. in Oregon, WI, for playing a big part in taking an idea and turning it into reality.  Genin's provides custom cabinetry and wood products to the building industry.  Mark Mortensen, President of All-Color Powder Coating, contacted Mark Genin, owner of Genin's Inc., and asked if he would be interested in creating a custom cabinet for the theater room in their home using powder coated MDF.   The cabinet for holding all their DVDs and various other video components was to be built into unusable living space in their theater room.  The challenge was to match the décor of the room and make it look like it was always meant to be there.
Powder coating MDF was something Mark Genin heard about but he wasn't quite sure how to make it work.  Mark went right to work to find someone who could machine the cabinet doors out of MDF.  One of the main requirements was to match the existing pattern of the cabinet doors found throughout the house.  The frame of the cabinets would be black and the cabinet doors were to be a burgundy to match the color of the theater room walls.
All-Color Powder Coating felt this would be a great way to demonstrate how powder coated MDF could be used for cabinetry that is durable, easy to clean and stylish.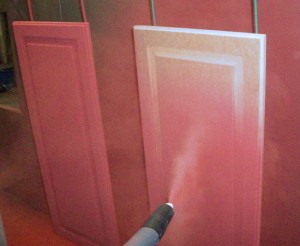 We have children and the cabinets must be able to hold up to the wear and tear they'll receive while still remaining stylish," said Mark Mortensen.  "It also gives us an opportunity to showcase what we can do in the cabinetry market.
Andy Lawry, MDF Coatings Manager at All-Color Powder Coating, worked with one of our powder suppliers and formulated a custom burgundy po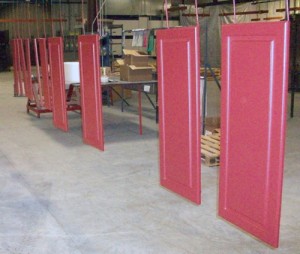 wder that matched the existing wall color of the theater room.  This powder was applied to the cabinet doors and drawer fronts.  A stock black micro texture was used for the frame.  The cabinet was put together at Genin's, Inc. using the powder coated MDF pieces and cherry wood for the casing and shelving on the inside.  The result was a seamless and durable piece of cabinetry that fit into the décor as expected.
We absolutely love it and the installation process was one of the best experiences we've ever had when dealing with cabinetry!  It also meets our high durability and easy to clean requirements,
said Ruth Mortensen.