All-Color Powder Coating is a Dane County Small Business Award Winner!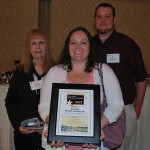 All-Color Powder Coating was one of ten companies recognized at the 31st annual Dane County Small Business Awards (DCSBA) ceremony held at the Sheraton Hotel in Madison, WI on June 14, 2013.   The annual Small Business Awards program is sponsored by Chase, Madison Gas & Electric Co., InBusiness Magazine, Mid-West Family Broadcasting, University of Wisconsin Small Business Development Center, and Wisconsin Business Development Finance Corporation, State of Wis. Supplier Diversity Council.  The DCSBA celebrates small businesses and the contributions they make to our communities and economy.  The award is given to the business, including all of the employees, not just the owners. DCSBA recognizes the owner(s) have the vision and take the risk, but it is the teamwork of all the employees that makes a successful company.
Mark Mortensen, president and owner of All-Color Powder Coating accepted the award on behalf of our employees.  Joel Hardy, Karen Truesdell and Danni St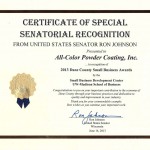 aver were recognized at the ceremony and Mark had this to say, "When Steve Salt over at MG&E sent an email asking who we wanted to be in the picture, I knew right away it would have to include all of our employees.  Although I have the honor of accepting this award today, it really belongs to each and every one of the employees.  Karen Truesdell and Joel Hardy have both been with me for 13 years and Danni Staver does a wonderful job keeping things together in the office."  Also in attendance were Judy Knutson, Oregon Chamber of Commerce Executive Director, Jerry Luebke, Steve Peotter and Mark Barberino from Oregon Community Bank & Trust in Oregon, WI and Mark's wife and parent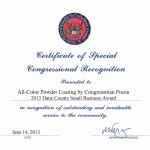 s.  A celebration cake was brought back to the office after the awards ceremony to honor everyone for a job very well done.
In addition,  All-Color received the following certificates of recognition from the Wisconsin State Senate and Congress congratulating them on being selected as one of ten Dane County businesses to receive the award.