Maintenance Technician Opening Available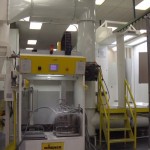 We currently have a Maintenance Technician opening available. This position works independently performing standard maintenance and repairs. You will be responsible for performing tasks involved in the upkeep and repairs of process equipment, and that of the building and grounds. The Maintenance Technician installs, maintains and repairs hydraulic, pneumatic, electronics, mechanical and electrical systems. They are also responsible for performing inventory of maintenance parts and supplies and successfully negotiating and interacting with suppliers, manufacturers and internal personnel. You are expected to be a self-starter, productive manager of time, work independently and follow safety standards.
Please click on the attached link to find out the details of the position.