2022 All-Color Powder Coating 500 Feature at Sugar River Speedway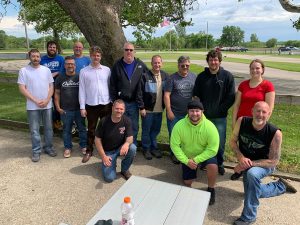 Start your engines!!!
All-Color employees participated in the first ever go cart racing event at the Sugar River Speedway outside of Broadhead, WI. The All-Color Powder Coating 500 featured two heats and a final feature where employees raced each other on a one mile track. The venue ran it just like you would see in a NASCAR race. They completed a practice round to see who won the pole and set up the field for a rolling start. There was a lot of bumping and pushing and a few spin outs along the way and the adrenalin after each race was off the charts!!
Monetary prizes were awarded for each heat and the feature. The top three winners also got medals and stood on the podium. The first place winner gets to display the All-Color Racing trophy in their work area for bragging rights for the year. The last place finisher also got a trophy to display prominently in their work space.
Congratulations goes out to Jeff Berman for being the 2022 All-Color 500 Feature first place finisher! Trevor Cox (aka, Gamer) came in second and Tyler Mortensen (aka, Cheese Curd) rounded out the winners circle with third. Kean Macaulay (aka, da Big Dog) came in a respectable last place. Great job to everyone that participated and a big thanks to Dan Anderson, our General Manager, for organizing this awesome event. Until next year…..